What should Indian Country be watching for in a Donald Trump administration? Let's explore four policy challenges. This is Trahant Reports.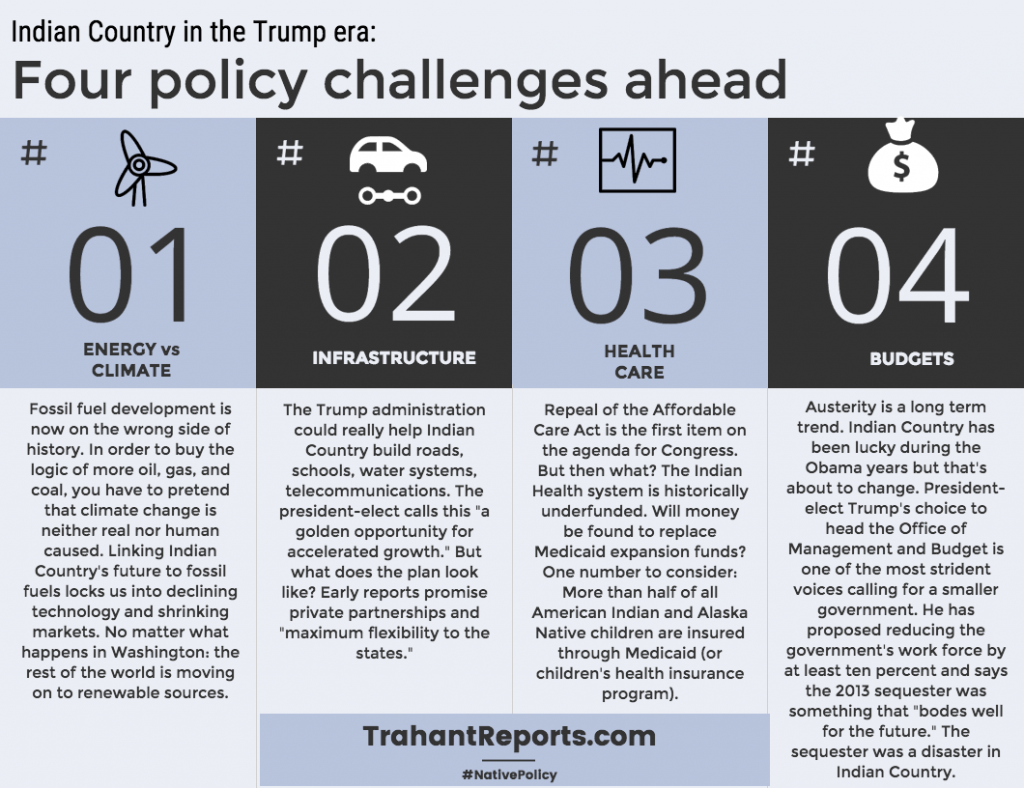 Trump supporters see the president-elect as a new champion of tribal sovereignty, especially when the focus is on energy development. The problem with this is that folks who think fossil fuels are our future are on the wrong side of history. In order to buy the logic of more oil, gas, and coal, you have to pretend that climate change is neither real nor human caused. The trade off requires believing that profits and perhaps a few jobs are better measures than science. And, to do this at a time when the rest of the planet is moving on. Linking Indian Country's future to fossil fuels locks us into declining technology and shrinking markets.
One area where a Trump administration could really help Indian Country is infrastructure.
The president-elect has called building roads
, water systems, electricity grids, and telecommunications "a golden opportunity for accelerated economic growth." But the plan has two serious obstacles for tribal nations. Trump promises to use private partnerships to pay for these projects. And, he wants the initiative to give "maximum flexibility to the states."
That brings me to the two greatest challenges ahead in a Trump administration, repeal of the Affordable Care Act and severe budgets.
Repealing the Affordable Care Act, or Obamacare, will likely be the first vote in Congress. Repeal is the easy part. "Then what?" It is a much more difficult question.
The Indian Health Service has been historically underfunded. But the Affordable Care Act has added money, especially through Medicaid expansion. And it's important to remember that the Affordable Care Act has substantially reduced the number of uninsured Americans, including American Indians and Alaska Natives. Here is one number to think about: More than half (51 percent) of Native children are insured via Medicaid and the Children's Health Insurance Program. This is important because those who have insurance are more likely to get a broader range of health care services than those who only rely on IHS for care.
So depending on how the repeal and replace legislation unfolds between 11 million and 60 million people could lose health insurance coverage. And the Indian Health system could lose hundreds of thousands of dollars in funding streams.
Then the issue of money for American Indian and Alaska Native programs might be the toughest one of all. President-elect Trump's choice for the Office of Management and Budget is Rep. Mick Mulvaney, R-South Carolina. He's one of the most strident voices in Congress against federal spending (even voting against his own party when budgets were not harsh enough).
Mulvaney defended the
2013 sequester
— a disaster in Indian Country — as something that "bodes well for the future."
"We are, all of us … having a national dialogue about what is really important for our government, and what our government could do without," Mulvaney wrote. "And it has been much too long since we have done that."
That conversation will define 2017. I am Mark Trahant.